Sports Multi-Function Flooring
See More about Sports Multi-Function Flooring >>>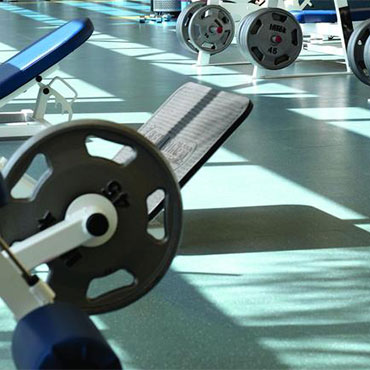 Commercial spaces withstand abuse from a multitude of activities. Today, multi-functionality rules. The locker room is connected to the weight room which is down the hall from the gym which can also be the cafeteria. Our multi-function sports flooring solutions work under all kinds of activities. Rubber and vinyl solutions that come in an array of colors, patterns, textures and thicknesses.
Triumph Multi-Functional Recycled Rubber Flooring
Need a floor that can take a beating and still look great? Triumph is ready. This commercial rubber floor covering is durable, flexible, and easy to maintain. It can take constant punishment from foot traffic, heavy rolling or standing equipment and even resist punctures and cuts from spikes, cleats, and ice skating blades. You can choose from our standard colors, mixing and matching to create innovative and eye-catching patterns; or create a custom look to coordinate with school or corporate colors. You can even feel good about choosing it because it's made from over 50 percent recycled material.
Inertia® Multi-Functional and Sports Rubber Tile
Inertia® Multi-Functional and Sports Rubber Tile offers the perfect balance between performance and price. This ¼" thick rubber floor is perfect for areas that don't involve extreme activity, such as locker rooms, or fitness centers. Inertia coordinates seamlessly with Triumph, its thicker counterpart.
Replay® Multi-Functional and Sports Rubber Sheet and Tile
Sporting activities can be particularly hard on floors–most venues don't have to contend with golf spikes and baseball cleats, ice skate blades, or dropped barbells. Enter Replay, which is made from recycled rubber tiles. Highly impact-resistant and shock-absorbing, it's easier on joints and backs, sound absorbent, and can stand up to high traffic and punishment from rolling equipment, sharp objects, and more. The lightly textured surface makes it safer as well. It's an economical choice that doesn't skimp one bit on performance. The Commotion pattern is available in 12 colorways to complement any decor.
Training
Training (also known as Omnisports) is perfect for all areas in a fitness center or health club are not created equal or have the same high performance requirements. For areas like hallways, reception areas or gyms or fitness room, Training easily fits the bill and the budget. A heavy-duty heterogeneous flooring, Training is engineered to provide many years of dependable performance with minimal maintenance.
Vent Cove
Vent Cove is manufactured with the most advanced technology and from the highest quality materials to assure dimensional stability, precision fit, and uniform height and gauge. A homogeneous composition of 100% synthetic rubber, high quality additives and colorants are what makes Vent Cove durable. Its unique "satin finish" resists scuffing, gouging, will not fade, discolor, or crack with age and is easy to maintain.
Vent Cove can help extend the life of hardwood and floating floor constructions by permitting air circulation through its vertical, semi-circular vents along the back surface.
---
NOTE:
Brouwers Flooring & Furniture does not carry every style of product. Check with us first about a particular product or to see if your product choice is available for special order.
---

---
Johnsonite® Commerical Flooring
WELCOME TO THE WORLD'S MOST INTEGRATED flooring system. Now it's easy to make choices that balance function and aesthetics. Short-term cost with long-term investment. Safety with efficiency. Sustainability with performance. Our mission is to integrate design and life-safety into flooring and stairwell solutions to create more productive, safer spaces that are aesthetically pleasing and add to our customers' economic success.
---
Profile
|
Website
|
Install
|
Maintain
|
Green