Furnishings: Coffee Tables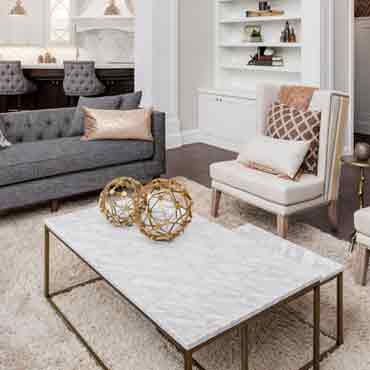 A coffee table not only gives family and friends a place to lay down items, but it also can creates a stylish focal point to your living or family room. Coffee tables come in a huge selection of designs that suit your tastes and fit effortlessly into any existing decor. Depending on the size of your room and the stylishness of your furniture, you can pick a coffee table to handsomely complement your sofa or sectional furniture.
Coffee tables come in a wide range of finishes, ranging from traditional to modern. Contemporary coffee tables are compact and sleek, offering clean lines in simple rectangular or square shapes. If you're looking for a more antique-inspired theme, select elegant wood coffee tables in oval, triangular or circular designs for a classic and charming character at home. Want a bit of both worlds? Try a coffee in transitional styles, which bring an updated twist on classic looks. No matter which style suits you, most models are made of durable materials that last for years to come.